When a flat surface is used as a primary datum, three considerations should be made to assure reproducible measurement and a functional part.

1. Consider a flatness control on the datum feature. The primary datum is often a mounting surface that may be clamped during assembly. Clamping may cause strain in the part. Strain causes stress and other critical features to vary in position or orientation. The flatter the datum feature, the less distortion of the part.


INSPECT THE PART WITH DATUM FEATURE A
MOUNTED AGAINST A FLAT SURFACE USING
2-M6X1 BOLTS TORQUED TO 9-15 N-m

2. If the part is prone to distort and a tight flatness control is impractical, consider a constraint note. A constraint note is usually intended to describe the condition of the part after assembly.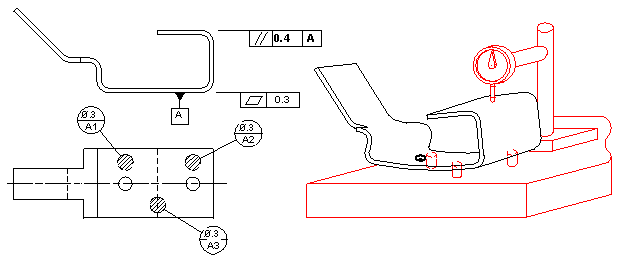 3. If a tight flatness control or constraint note does not fit your situation, datum targets should probably be specified. Since three points determine a plane, three targets should be used on a primary datum feature that is establishing a plane. If four or more targets are used, it is advisable to also include a constraint note.